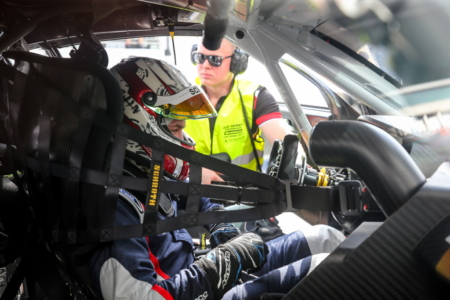 A few days after the turn of the year, the first race of the year awaited Marvin Dienst. The race driver from Lampertheim started at the 24 hours of Dubai and finished the race through the desert on fifth place. Multiple premieres had awaited him.
Even though Marvin Dienst travelled throughout the world as a race driver these past few years, there are still new challenges for him out there. Last weekend, he started on the race track in Dubai in an Audi R8 LMS GT3 of the Attempto Racing Team for the first time.
After he had gotten to know the track and the car on Wednesday and Thursday morning, things got serious at qualifying in the afternoon. Marvin's team mate Klaus Bachler drove the Audi R8 on the seventh starting position. "I'm very confident so far. We had a good qualifying. A lot can happen in 24 hours", said Marvin contently.
The start into the race didn't go as planned for the four drivers though. The team fell back to 28thplace due to unlucky yellow-phases, two tire damages and a defective radio communication unit. Instead of giving up, the 21-year-old Lampertheim resident fought his way forward again with his team mates and was on the promising eighth place in the morning. Until crossing the finish line, they even made it to fifth place.
"These have been exciting and thrilling 24 hours. After the bad luck in the beginning, we were able to drive forward again during the second half of the race. I felt very comfortable in my car. During the first couple of hours the traffic was a real challenge – 80 cars on a little more than 5km track length really were a lot. But everything went well and was a lot of fun. I'd like to thank the entire team for the great cooperation", Marvin summed up.
Marvin is going to work on his further season preparations during the upcoming weeks. This year, he's going to have his comeback at the ADAC GT Masters. He's going to start in a Mercedes AMG GT3 for the team Schütz Motorsport.