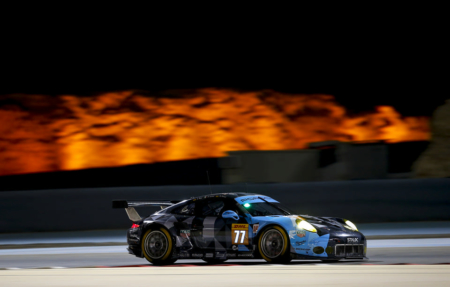 Last weekend a successful premiere season at the FIA World Endurance Trophy ended for Marvin Dienst from Lampertheim. The youngster secured the vice championship title with the team Dempsey Proton Racing.
"I learned so much this year and was able to collect lots of impressions. I'd really like to thank Dempsey Proton Racing for the trust they put in me. Second place at the World Championship is a great reward for our hard work", the 20-year-old rejoiced at the finish line on Saturday evening.
With small chances of winning titles, the driver trio Christian Ried, Matteo Cairoli and Marvin Dienst started into the last race of the year. The location was the Bahrain International Circuit this time. A six-hour race awaited the participants of the World Endurance Championship (WEC) under best weather conditions.
Despite the good starting position, Marvin tried to keep his cool before the start: "Of course it's our goal to achieve the overall victory. A lot can happen in a six hour race though. We have to tie in with our usual performance and enjoy the race."
In the end the Porsche 911 RSR with starting number 77 achieved fourth place. "That's unfortunate. We lost a lot of time in the pit at the beginning of the race due to a damaged head lamp. That made it difficult to end up on the podium again", Marvin explained at the finish line. Despite the closely missed title the youngster rejoiced just as fiercely about the vice championship. With two race victories and six places on the podium on nine racing weekends the team looked back on a strong performance.
Marvin is already looking toward the future now: "The new season is going to begin just as quickly as this one ended. I hope to be a part of the WEC again and will continue to work hard. I'd like to thank the whole team, my partners and sponsors for their support throughout the 2017 season."