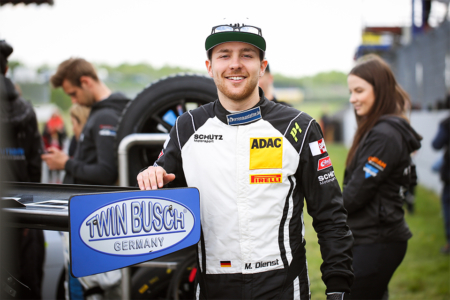 The race season 2019 started greatly for Marvin Dienst from Lampertheim. The Youngster drove directly into pole position and showed a impressive performance in the league of the super sports vehicles. Upcoming week the race will continue in the Czech Most. Dienst wants to lead the top again.
After two years of absence in the ADAC GT Masters, Marvin Dienst comes back for the season. The 22 years old starts with Schütz Motorsport and Aiden Read in the sports vehicle race series. The season started in the end of April in the Motorsport Arena Ochersleben. With difficult weather conditions, Dienst drove with his Mercedes-AMG GT3 onto the pole position. Throughout the race the duo was going for the win, but shortly before the end of the race it began to rain and made only made a position in fifth rank possible. Sunday a sudden dropout followed in the second run. 
"Our speed was fitting in the first race. With the pole position I drove a good lap and got attention. There is potential in our car, now we have turn this potential into a good result in Most", Dienst commented highly motivated.
For Marvin a premiere is waiting in Most. Until now the driver from Germany did not attend a race on the 4,212 kilometer long track yet. "That is no big problem for me. I got used to the track on the simulator and I am ready", Marvin explains confidently.
Already on Thursday the first free training will start for the ADAC GT Masters. Saturday and Sunday, the super sports vehicles will each attend qualifying and a sprint race over a duration of 60 minutes. The races will be broadcasted live on free-TV on Sport1.