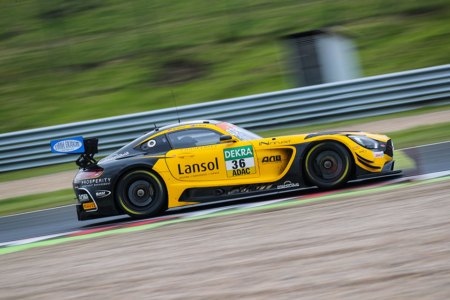 The second run of the ADAC GT Masterswas hosted in Czech Republic. Marvin Dienst celebrated his race premiere on the race track in Most and convinced with a strong performance. Together with his team colleague, the driver from Lampertheim is leading in the junior trophy.
Already in the beginning of the season Marvin Dienst and his team Schütz Motorsport convinced with a best time in Oschersleben and now it is about tying in with this success. Despite his big race experience the driver from South Hesse entered new territory – Marvin started for the first time on the 4,212 kilometer long track. For the routinier this was no reason to worry. In the tests and in free trainings on Thursday and Friday he got adjusted to the conditions and worked together with his team on the finishing of his Mercedes AMG GT3.
The meticulously working hours paid off in qualifying on Saturday. Marvin drove onto rank six and had a great starting position for the next races. In front of more than 17.000 spectators he and his team colleague Aiden Read defended their position in the course of the one hour long race. At the same time they were placed on rank two in the junior championship and got important points. The end of the race could have been totally different, as Marvin reported subsequently: "immediately after the start we were caught up in an accident. Fortunately the car was not totally damaged and we were able to keep driving."
On Sunday Marvin's team colleague drove the qualifying and the first part of the race. After a perfect pit stop, placed 25th, Marvin took over the wheel of the Mercedes and delivered an impressive ending to the race. With top times he stormed through the field and drove onto position 13. "Everything was going perfect. Because of a red-phase and a shortened race, I only had 20 minutes to attack. Ultimately I only missed the fastest race lap by about a hundredth of a second, this underlines our competitiveness", Marvin said concluding.
After a strong weekend in Most, the Schütz Motorsport duo continues to travel to the next race as leading position in the junior championship. In three weeks the league of the super sports cars will continue on the Red Bull track in Austria. Marvin is very confident and is aiming for the next position on the podium.