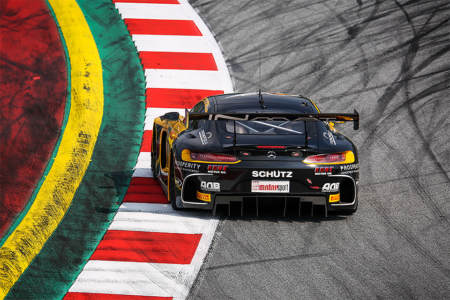 This past Whitsun weekend was all about the third race of the ADAC GT Masters for Marvin Dienst from Lampertheim. The Youngster from Team Schütz Motorsport delivered a great presentation even though not everything worked out as planned.
Already Thursday the bolide took off in the league of the super sports vehicles to the racetrack in Spielberg, Austria. In the frame of a collective testing, driver and team had the possibility to get used to the 4,318 meter long race track. Marvin showed himself satisfied after the first run: "We are in and are able to drive a fast time." In comparison to the other sports cars, the team did not show any improvement with their Mercedes AMG GT3 on Friday in the free training.
"We completely rebuild the car in the night to Saturday", Marvin says before qualifying. In qualifying the driver from South Hesse showed a fabulous presentation and was placed eight – with that he crossed the finish line as highest placed Mercedes in the field. In bright sunshine, Marvin got unlucky right after the start into the first race. In the third curve he dropped out and had to chase the other drivers with his Australian team colleague Adian Read, in the end the duo was ranked in 18thposition.
The race on Sunday again started difficult. Being placed in only 28thposition, Marvin's team colleague finished the heat. Throughout the course of the 60 minutes race, the team additionally got a drive-through-penalty. Marvin did not let this impress him and was in the second half the fastest Mercedes in the field and drove up to position 14. "All in all we can be satisfied. The Red Bull Ring does not suit Mercedes 100%. However, we gave our best and are now excited for the upcoming races. A great thank you to my team colleagues and the crew by Schütz Motorsport for their great job", Marvin continued.
With rank 18 and 14 both drivers upgrade their junior trophy and are going starched into summer break. In nine weeks the ADAC GT Masters will continue in the Dutch Zandvoort.